The former bosses of an Indian restaurant in the West Midlands have been handed suspended prison sentences and the company fined £175,000 after a chef suffered serious burns from a dangerous tandoor oven.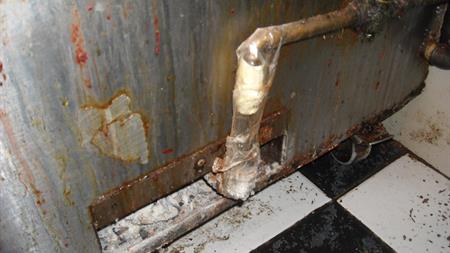 Sandwell Council prosecuted The Alachi International Restaurant in Cradley Heath after the chef was burned when the oven – which was leaking gas and had no ignition switch – exploded in his face.
The chef's clothing caught fire and he sustained burns to his face, ears, hands and arms which were treated in hospital.
When an engineer acting for the council's environmental health team checked the tandoor oven, he found it was being turned on and off using a set of pliers and had to be lit using a flaming piece of paper.
The pipework – which was held together by foam and sticky tape – was also leaking gas which ignited when the chef attempted to light it when he was injured in November 2017.
The court was told that former director Khalid Hussain and former manager Mahbubur Rahman Chowdhury failed to report the incident. The oven continued to be used until a third party reported the incident to the local authority two weeks later, prompting an immediate investigation, Sandwell Council told IOSH Magazine.
Safety checks found that the flame failure devices on other gas appliances in the restaurant's kitchen were either missing or had been bypassed.
The ignition buttons on a large cooker were being held in place with string and metal wire and a smaller cooker had a twisted gas pipe and the safety chains were missing. The large cooker also had missing burners and was condemned along with the tandoor.
Last month at Wolverhampton Crown Court, both the defendants and the company pleaded guilty to ten breaches of the Health and Safety at Work Act, including that the oven was unsafe and that Gas Safe regulations had been breached.
Alachi Restaurant was fined a total of £175,000 and ordered to pay £4,300 towards costs.
Sentencing, Recorder Hegarty QC stated that the offences were so serious that only a custodial sentence would suffice. However, he was persuaded to suspend the sentences for two years.
Each defendant was also ordered to pay £4,000 in costs and sentenced to a total of 38 months in prison for the various offences, to run concurrently for 10 months, suspended for two years. The defendants were also ordered to carry out 150 hours of unpaid work and were disqualified from acting as director or management for five years. The restaurant is now under new ownership.
"Our checks found very dangerous conditions in the kitchen of this restaurant that resulted in one of the chefs being seriously injured," a spokesperson for Sandwell Council said. "It's only by luck that he wasn't killed, and that other people were not injured.