Farming involves a lot of repetitive work. Manual handling and lifting in particular can cause strain and awkward positions. Outdoor work and specificities of terrain make the design of agricultural machinery challenging.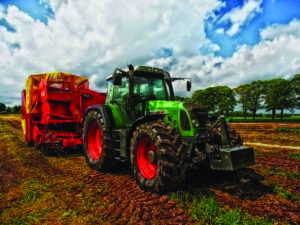 The European Agency for Safety and Health at Work (EU-OSHA) has published a discussion paper, which looks at the use of mechanisation to reduce the risk of musculoskeletal disorders, especially upper limb disorders, in the agricultural sector. It also covers standards for risk assessment.
The paper includes a case study on agriculture in the Marche region of Italy and describes the support available from INAIL, the Italian National Institute for Insurance against Accidents at Work, to help micro and small agricultural enterprises to prevent MSDs.
Agriculture, characterised by many tasks and activities that are not standardised but vary according to daily and seasonal working needs, is one of the working sectors with the highest rates of accidents and of musculoskeletal disorders (MSDs).
Activities depend also on places, environmental conditions, and type of machinery and tools used. Currently, agriculture is characterised by a wide use of machines and technological systems, but many manual activities still involve repetitive movements of upper limbs and manual handling, carrying, pulling and pushing of loads; the assumption and maintenance of awkward or static postures can also affect various joint areas of the body.
As a result, biomechanical overload is a significant risk for agricultural workers alongside other risks deriving from physical factors (mainly noise and vibrations, but also working in cold and hot environments), chemical factors (exposure to pesticides, herbicides, etc.) and biological factors.
The paper focuses on the following:
Statistical evidence of MSDs among agricultural workers;
How to evaluate the risk deriving from biomechanical overload in agriculture; for this purpose, the paper illustrates standardised methods and presents the results of a case study based on an INAIL experimental assessment of MSDs caused by manual work in agriculture in the Marche region;
How to improve working conditions as regards biomechanical overload in agriculture; for this purpose the paper presents some examples of projects financed by INAIL through Incentivi di Sostegno alle Imprese (ISI, enterprise support incentives) to reduce the risk of MSDs in agricultural processing.